More and more cases of students who have insulted, humiliated or even stuck their teachers are heard. Before this was unthinkable because, although not abide by the teacher, yes they had a respect towards him. But the problem lies not only in schools, but the respect for others are taught at home.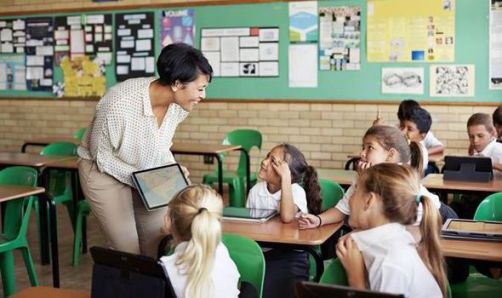 From very small it should be taught to respect their parents: not to allow replies, always ask forgiveness when their behavior requires it, knowing that their negative acts have resulted in an appropriate punishment, etc. Thus, they should be treated with respect to their siblings, grandparents, uncles, the person who help them at home, the caretaker of the building, the supermarket saleswoman, etc.
Children must internalize from childhood that all people are owed a respect for their dignity as different from each emanate authority by the position held within the human community. Thus, to reach the teens know to deal with the education they deserve those around them, including teachers.
The meaning of respect for teachers
The parents should from home to inculcate a series of ideas basis for their children to know what it means to respect his teachers:
As in all social relationships, not everyone is going to be to your liking, is what we usually say "I like good or bad". But this is no reason to respect the teacher as a person and not to leave out the subject that he imparts.
As a person, the teacher can make mistakes. At this age should be the students themselves who solve any discrepancies; yes, with education and due respect.
As parents not we declare in our son those failures that we observe in the teacher. It is best to tell the child that is necessary to know the two versions. Therefore, we will try to talk to that teacher, before defending "tooth and nail" to our son. And even taking reason the Son, advise him that I resolved the issue with the teacher.
Before a punishment determined by a teacher, we agree with him or not, our son must comply with it, provided that no violation of their dignity.
This extends to any determination of collegiality rules. You must accept the existing rules in the college of our children, provided that it does not affect basic principles.
At this age the educational exercise should primarily be based on reflection by the child to internalize and endorse what he says.
Our example is always important. You must see that we struggle and strive to be respectful of all not to criticize, respect different opinions, etc.
We should not go along with the children when they speak to us about bad manners of any teacher. It is different that, in an objective way, we could admit that there are a few teachers more competent than others, but always avoiding disqualifications.
It may be happen that our son does not fit with a particular teacher. This circumstance can turn it to our advantage, explaining the child who is very good to learn in life to live with people of different characters or incompatible with ours. Today will be in the school and in the future in their professional work.
We must teach our children that, even if they perceive that they are right before an unjust attitude of his teacher to them, by the authority which is within the classroom should not reply in public. Later that tries to clarify it in private.
See More: How to become an empathetic teacher