The preschool stage of life is very important since children acquire fundamental lessons at this age. Thus, choosing proper toys for your children that will help them to exhibit their creativity, inventiveness, and cognitive skills is crucial.
However, selecting a useful and ideal match for a preschooler from among innumerable possibilities may be tough. Hence, after a lot of research, we have prepared a list of 20 best educational toys for preschoolers. Throughout this article, you will learn about those toys' features, benefits, and limitations. So, keep reading to get into the insight.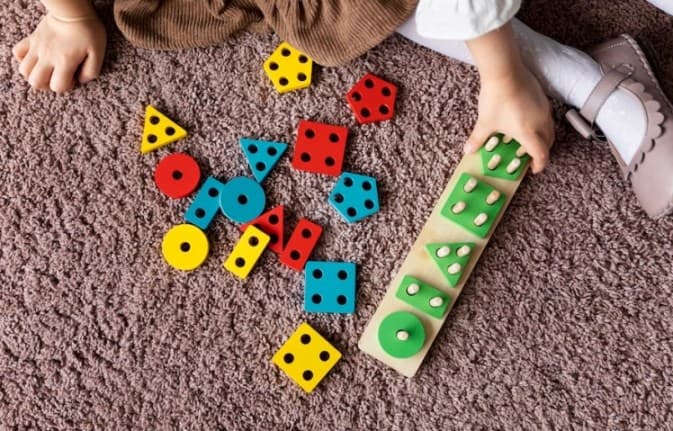 Image source: Freepik
20 Best Educational And Learning Toys For Preschoolers
There are a lot of educational toys for kids in the market that might create confusion while choosing. To solve this issue, we have enlisted some best preschool educational toys to help your children enjoy their childhood with the best ones.
Why is it helpful?
The Huijing Montessori book will develop your child's motor skills while learning through play. Moreover, kids can enhance their skills like problem-solving, sense of color, size and shape, imagination, and verbal communication through these books.
You can also help them with this book to understand a problem, develop a proper sense of color and shape, and about logical thinking.
Features
It comes with 15 matching themes for learning
There are 14 pages for learning, writing and drawing
Includes 8 markers for coloring the drawings
The book contains content like numbers, alphabet, shapes, size discrimination, colors, seasons, weeks, etc.
Customer Reviews
Most parents claimed this product is a 100% thumbs up for their kids. Because your kids will face almost all the prime preschool subjects in these books. They also said that playing together with this book enhanced their bonding with other children.
Pros
The features of this book are autism-friendly
The book is so colorful that your kids will love it
The velcro that you will find in the package is of high quality. Thus, your kids can play it with it, again and again
The edge of the book is of anti-cutting design. Hence, there is no risk for your kids to get hurt while playing with this.
Cons
Not suitable for kids under 3 years old
There are tiny balls that come with the package. Thus, there is a high risk that your kids might gallop on those.
Why is it helpful?
PlayShifu Educational Globe helps kids in early learning about the globe. This toy widens the knowledge and imagination of toddlers about geography. Besides, the coins and prizes they will get after cracking any puzzles and quizzes will encourage them to learn more.
Features
This globe kit can connect with an interactive companion named Orthbot
There are six categories of learning. Those are monuments, cuisines, culture, animals, inventions, and apps
The app provides numerous quizzes and puzzles
It comes with several stamps, passports and stickers.
Customer Reviews
Almost all the customers of this product are satisfied with its quality and benefits making it one of the best interactive toys for preschoolers. In their opinion, this toy helps enhance the creativity of kids by giving them the experience of adventure and new inventions.
Pros
This toy lets kids learn anything beyond any borders
The Orthbot app is free, and you can easily download it from the Play Store or App Store
Perfectly suitable for curious children who love new inventions
This globe is even compatible with a 3GB RAM Android phone
The puzzles help to develop thinking and problem-solving skills.
Cons
This kits of educational globe won't be helpful for your children if you can't provide a compatible device
Kids have a risk of choking with small parts that comes with this package.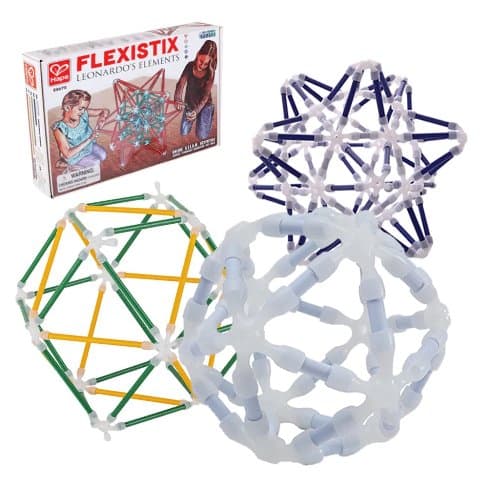 Why is it helpful?
Hape Flexistix Leonardo's Elements help develop early engineering, construction, art, and design skills. Your kids will get an excellent chance to expand their creativity and explore their imagination while building a new shape.
Eventually, this skill will help their school understand science and technology relatively quickly and easily.
Features
Parts of this toy are capable of glowing in the dark
The toy contains 258 pieces of silicon and sustainable bamboo-made elements
The silicon parts are flexible.
Customer Reviews
Parents love these flex sticks as they encourage their children's creative minds. Moreover, their children find endless fun in constructing new configurations.
Pros
Your kids can make almost 10 different shapes from this toy
The sticks are easy to connect and don't get displaced easily
This toy will improve the construction idea of your 4 years older kids
The water-based paint of this toy is safe for children.
Cons
Not appropriate if your kids are of below 3 years old
Small components will provide the risk of choking. So be careful when your kids use it.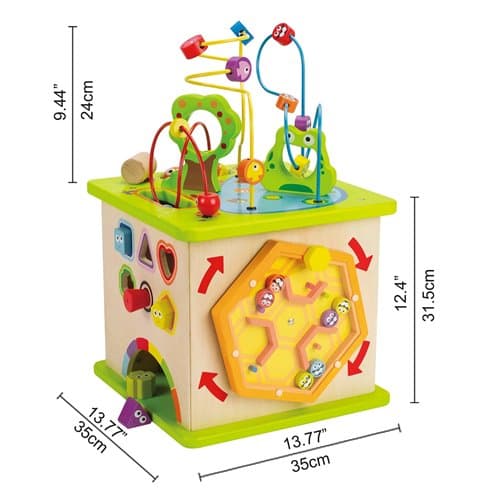 Why is it helpful?
This cube is beneficial for improving the skill of kids to identify differences between shapes and colors. However, these senses and creative thinking will help them in their school. Besides, hammering the balls downward will also improve their arm strength.
Features
5 different sides of the cube provide the scope of 5 different activities
The 5 sides include adventure land, color activity, turnplate, shape sorter, and ball slides.
Customer Reviews
Most of the customers have given good reviews about this product. In their opinion, this product is capable of grabbing their kids' attention which is difficult nowadays. Also, this cube provides the kids with options for activities according to their interests.
Pros
The product is made of wood, that's why it's relatively durable
The paint that manufacturers used on this cube is water-based and indeed safe for your children
Suitable for any kids over 1 year old
As there are multiple activities, your kids can choose and change the activities according to their interest
As the product is heavy, there is no risk for your kids to trip over it if they pull the cube with full strength.
Cons
Your kids will need your guidance and help to play with this
This toy has numerous small parts and hazardous edges, which may create risk with careless use.
Why is it helpful?
This i-poster learning toy is helpful for preschoolers as they will gather a bunch of knowledge about geography before starting their schools. While solving the quizzes, memory power and problem-solving skills will also improve.
Also, this toy will teach children about the flags and languages of various countries. Knowing multiple languages is beneficial because it gives children more possibilities to communicate their thoughts and feelings.
Features
It contains more than 1000 facts like flags, population, language, landmarks, fun facts, etc., about each country
The speaker provides interactive talking functions.
Customer Reviews
Customers are satisfied with how the i-poster catches the interest of their kids. Their kids can learn a lot about numerous countries around the world. But some customers claim that the voice of the speaker is sometimes inaudible, which hampers the learning process.
Pros
This interactive map consists of information from almost 92 countries and enriches the geographical knowledge of your kids
Both children and adults can learn different aspects of different countries from this toy
Provides excellent scope of learning for your 5 years or older children
Kids can play with this by hanging it on the wall, spreading it on the floor, or as a playing mat.
Cons
Won't be appropriate for kids under three years old.
Why is it helpful?
Learning Resources Gears can help nursery school students in enriching their critical thinking. This toy improves the sense of sorting colors, patterning, counting, constructing, and overcoming obstacles.
Not only that, but this game will also widen the borders of children's imagination. They can visualize the color and size of pieces and start their creative thinking.
Features
150 tiny pieces of different colors
Those small pieces include 66 gears, 36 pillars, 31 axles, 8 connectors for pillars, 7 bases, and 2 handles.
Customer Reviews
Parents claimed that their children loved this toy and invested all their time in making different types of shapes. Kids got more involved and skilled at making numerous shapes with time.
Pros
School-going kids can develop their creativity and thinking skills by making different shapes
It's one kind of STEM learning kit for children
Helpful for improving eye and hand coordination
Children can construct more than 100 shapes by combining and arranging those tiny pieces
After building a shape, kids can rotate that construction both vertically and horizontally.
Cons
Small pieces can get lost easily
Not appropriate for kids under 3 years old as they can choke on those small pieces.
Why is it helpful?
We highly recommend this toy for toddlers who are learning how to walk. Besides assisting them with their walking, this toy will provide multiple learning scopes.
They can solve the maze, sort the ball according to their color, and learn how to read the clock. Furthermore, their ability to visually track and socialize will increase, which will help them in their school life.
Features
This is mainly a walker and has an armrest set
It also includes a multipurpose activity cube
A bead maze at the top of the activity cube.
Customer Reviews
This walker toy satisfied the customers as it's a great walking assistant and has a multi-learning kit box. Practicing walking for a few days with this walker toy develops the balance of toddlers. Also, playing alone or with others with this box keeps the kids busy and also improves many skills.
Pros
It's a multi-purpose toy that acts as both a walker and an activity cube
The toddler can get a sense of color, numbers, clocks, and animals
More than one toddler can play together with the activity cube
You can also store your kid's small toys inside the box.
Cons
Not appropriate for kids under 1 year old
Parents need to supervise their kids while playing with this toy.
Why is it helpful?
LeapFrog LeapReader System provides the facilities for reading and listening to the books' content. This system will come with multiple books, including multiple contents. Reading and listening to those contents boost the brain's capturing process.
Mainly, this Leapreader will be helpful for both preschoolers and school-going children.
Features
Comes with a pen and touching the pen on the books activates the speaking mode
There are 10 different books included in the package
Every page of the book has 3 different modes of speaking
The pen is capable of functioning with any Leapfrog book that you will buy additionally.
Customer Reviews
According to parents, children find this Leap Reader interesting as it talks about touching on the icon or words. Besides, by touching on the pictures on book pages, people can hear the descriptions of those pictures.
Pros
There are multiple models of leap readers for different age ranges. Thus, you can choose any according to your kid's age
The speaker mode of books helps to improve pronunciation skills
While reading this Leapreader, both auditory and visual senses get involved. This accelerates the learning process
The proper sense of how to pronounce a word will build up confidence in a child's mind.
Cons
Can't hold the charges for a longer period
Additional contents are not free.
Why is it helpful?
This toy boosts the learning process by involving optical and auditory motors. Mainly, the picture on the screen will help to understand the meaning, and the speaker will help to correct the pronunciation.
Besides, kids can also practice uttering the words by repeatedly playing with the words again and again. Hence, this toy is also used by teachers in school to accelerate learning mechanisms.
Features
224 sight words and 112 double-sided cards
The double size cards include twelve different aspects, such as animals, fruits, foods, vegetables, transportation, etc
The volume of the speaker is adjustable.
Customer Reviews
According to most of the customers, this toy is quite handy and easy to use for kids. Kids can quickly figure out the card insertion process and then can play with the toy themselves. The picture of a figure on the screen and words or sounds related to the figure makes the toy more attractive to them.
Pros
Highly suitable for kids who are highly curious and quick learners
The display will lighten upon inserting the cards
Autistic children can also learn things quite impressively with its feature of repetition
The battery can hold up charges for 4.5 hours straight
This toy is lightweight so that kids don't find any difficulty in holding it.
Cons
Cards are pretty susceptible to getting lost frequently
The toy won't function without the proper insertion of cards.
Why is it helpful?
The Cardboard Blocks is an entertaining game for kids, and this game has some learning dimensions. Kids can know about spatial awareness, which means they can explore their surroundings.
They will get to know about empowerment and can learn about how to keep control of themselves. The best aspect of learning from this game is that it builds their imagination level.
Features
Total 40 blocks of different colors and 3 types of size
Among those 40 blocks, 24 pieces are of green color, 8 are red, and another 8 are of blue color.
Customer Reviews
Most of the user experiences of this toy are positive. Parents stated that their kids liked this game. They said it really improves their imagination level as their kids have to be so thoughtful during this game.
Pros
This game improves kids' creativity so that they can solve critical problems
As they have to calculate blocks and have to choose a shape that is needed for this game that can build up their math skills
It develops their skills because they have to go through different decision makings to design the blocks
It also makes their imagination strong.
Cons
Not suitable for kids under three years old
Why is it helpful?
This learning poster toy is an excellent assistant for toddlers in learning spelling, letters, and words. Also, they can practice and increase their proficiency by practicing using the repeat feature.
Interestingly, by participating in quizzes, kids' logical thinking, problem-solving and memorizing skills will improve a lot. These skills are essential for preschoolers as those are crucial requirements in school.
Features
The speaker will sound by clicking the buttons on the poster
Volume is adjustable according to preferences
It comes with 10 different and familiar children's songs
Automatic shutdown of the battery.
Customer Reviews
Many users stated that the product is an absolute thumbs up for engaging toddlers in learning. Kids can learn a lot while singing and dancing to their favorite songs.
Pros
The automatic shutdown feature helps to preserve the battery life
It comes in different colors and is capable of enriching the decorative outlook of a kids' room
You can hang the poster on the wall simply, and this way, it won't block the space
Relatively easy to use for average children or children with any special needs.
Cons
Buttons are pretty small and will require high precision during activation
The poster may curl up easily.
Why is it helpful?
Code n learn Kinderbot develops your kids' mathematical skills. They can learn about coding, colors, and simple math problems. All of this knowledge will be helpful for them at their school level. Also, kids learn to follow paths and exercise their brains while solving and creating new codes.
Features
This robot will light up, sounds and phrases upon activation
There are 3 different modes like free coding, challenge, and secret codes.
Customer Reviews
Almost everyone in the review says their kids are enthusiastic about this game. But some expressed frustration and said that it would be better if the battery was rechargeable.
Pros
This helps kids to increase their thinking ability as they have to solve some coding in this game
From a young age, kids can create their basics about engineering because kids experiment with robotics challenges
Over the 3-6 years old, kids quickly become adept at solving complex problems
Kids can learn about academic lessons like the alphabet, minor math solving, etc.
Cons
The battery isn't rechargeable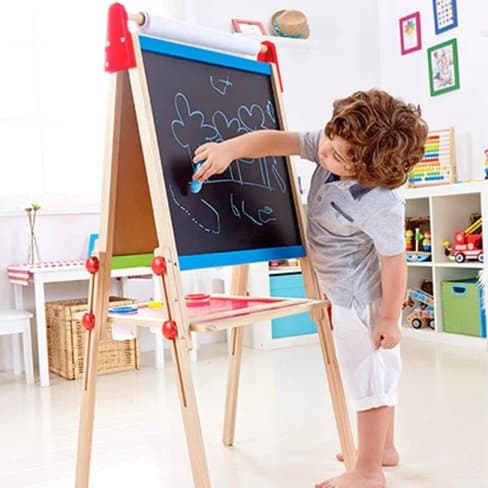 Why is it helpful?
This Art Easel kit will broaden the imagination and creativity skills of the kids. Most importantly, kids will be able to draw whenever they feel like doing so. Arts that will make them proud, confident, and praised for their creation in schools.
Features
Two-sided easel
This features an easily erasable blackboard and whiteboard
It contains a paper roll
3 paint pots are also attached to the kit through holders.
Customer Reviews
Most customers state that their naughty kids are now totally into these drawing kits as they can draw as long as they want. In their opinion, this product is more suitable for children in the lower age range.
Pros
The paper roll placed on the top is refillable
You can also adjust the height of the drawing boards according to the height of your kids
This art easel is pretty beneficial for children with an artistic mind
Kids can draw on the board and erase them whenever they want. This will reduce the probability of their painting on the wall.
Cons
Adults need to assemble the structure for their kids
Kids under 3 years old can't play with this product.
Why is it helpful?
PlayShifu Educational Word Game is suitable for 4-10 years old kids. This game will enrich their vocabulary and grammatical concepts, which will help them at the school level. Also, their speaking skills, creativity, and imagination skills will improve a lot by playing this game.
Features
It comes with an assistant app that contains 5 games
A letter trunk containing a magnet to hold the letters
There are 48 tiles of words and gameplay
App provides the functions of sounding out each letter.
Customer Reviews
There is a mixed reaction to this product. Some users claim that it is helpful for the enrichment of children's vocabulary. But some users faced the app sometimes malfunctioning.
Pros
A great toy to keep mischievous kids busy
Whenever kids place a word on the magnetic portion, they will hear the proper pronunciation
They can learn new and unknown words and the correct spelling and pronunciation
300+ levels of this game will unlock one after another. This makes the game more engaging
The storytelling functions make learning more effective.
Cons
You always need to start from the beginning. Thus, advanced-level kids might find it frustrating.
Why is it helpful?
We recommend this learning cube for infants and toddlers aged 6 months to 3 years. The functions of this cube will build up the sense of color, music, animal sounds, and rhymes at an early age.
Thus, when they start going to school, they will be familiar with this primary and essential knowledge from before.
Features
Quality sound system
Switch for volume control
6 lighted buttons of different colors for 6 other functions
The 6 functions are alphabet, numbers, colors, rhymes, animal, and instrument songs.
Customer Reviews
Most reviews about this learning cube are good, as it has quite enjoyable features for toddlers and kids. However, a few customers claim to face glitches in the system due to unforeseen reasons.
Pros
The cube is perfect in size and weight for kids and toddlers to hold
This doesn't sound too loud, and you can adjust sounds according to your preferences
There are no sharp corners, and hence it's safe for children
This cube is strong enough to withstand the stampings, drippings, and throwing by little naughty kids.
Cons
Sometimes, the toy may malfunction and show glitches
The battery is less durable.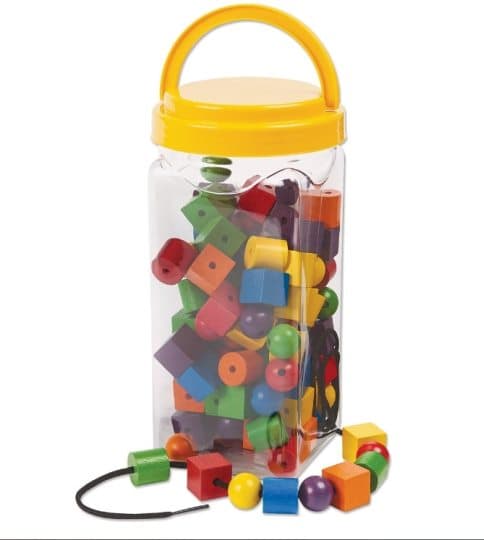 Image credit: Montessori Services
Why is it helpful?
The most important benefit of the wooden beans and laces is that they will give a scope to enjoy times without digital screens. Also, children can learn how to identify colors and count those beads.
This sense of patterning and distinguishing the beads colorwise will also help them in their academic subjects.
Features
108 beads of ¾" size and six colors
The beads are of 3 different shapes cube, cylinder, and sphere
There are also 2 laces that come with plastic tips.
Customer Reviews
Customers rated this product as helpful and engaging for their kids. In their opinion, this game is more acceptable and thrilling for younger kids.
Pros
This toy is capable of keeping mischievous children busy
Impatience children will also remain engaged with beads and laces. This will raise their patience level.
Playing with these beads and laces will enhance the kids' coordination between the eyes and hands.
Children with special needs also find it fun to thread and rearrange these colorful beads together.
Cons
Contains numerous small pieces. Thus, there is a choking hazard for kids.
This game won't be appropriate for your kids if they are below 3 years old.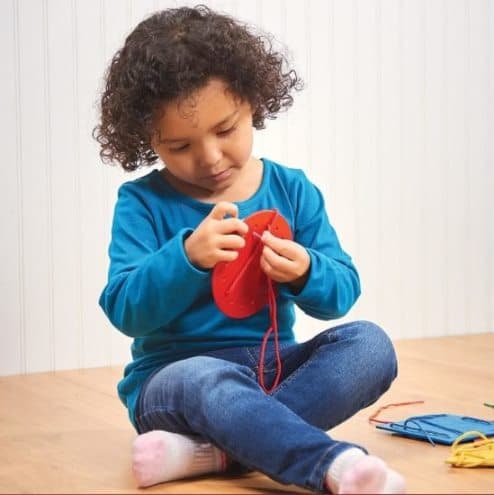 Image credit: Montessori Services
Why is it helpful?
Lacing Shapes is helpful for preschooler kids as it helps develop the sense of shapes. Kids can differentiate between colors and geometrical shapes. This prior sense will help them to understand their classes properly. Also, playing will make them more patient and confident.
Features
A large stitching lace of 37.5″
Six different shapes like circles, triangles, squares, pentagons, hexagons, and octagons
There are punched holes in the corners of those shapes.
Customer Reviews
Reviews about this product are quite good, and the users also recommend this product to other children. They say that lacing shapes improve kids' eye-hand coordination and motor activity.
Pros
The extra-long lace is adequate to stitch the shapes together properly
The shapes are not too large for kids' to hold
Playing with these kits will develop the bone and muscles of the kid's hands
It's a fun game for introverted kids to play alone at home.
Cons
Kids might get hurt by the pokey edges of the shapes
Too complex for younger children than 3 years.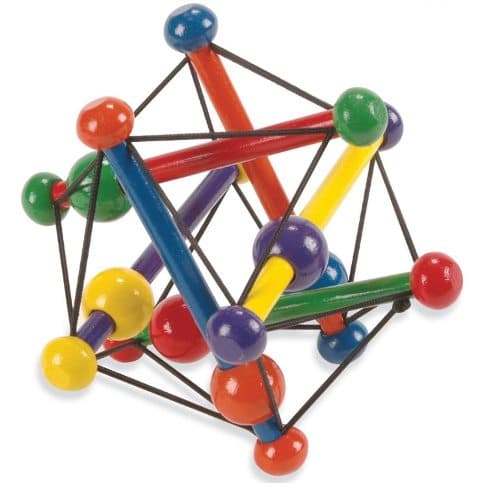 Image credit: Montessori Services
Why is it helpful?
This toy serves as both playing ball and rattles for kids. It rattles way better than any competitive rattles. Because it's neither too loud nor too faded. The colorful small balls fascinate the kids to play and engage with this toy.
Also, while teething, they can chew on this product to ease the itchiness of their gums.
Features
A web of small balls, beads, and attaching rods
Makes nice sounds with movement.
Customer Reviews
According to reviews, this product is more popular among new parents because this toy is enjoyable and has safe designs for their infants.
Pros
The open shape of this product makes it easier for any 3 years+ to grab onto
It is also lightweight for toddlers to carry and slide the toy back and forth
This toy has high elasticity so that it can come back to its own shape even if toddlers flatter them
The rattling noises coming from the toy make it fascinating to kids
Classic Rainbow Skwish is colored with water-based acrylics and is safe for kids.
Cons
Your kids can chew the wooden beads, and the beads may come off sometimes
Kids can choke on those wooden beads.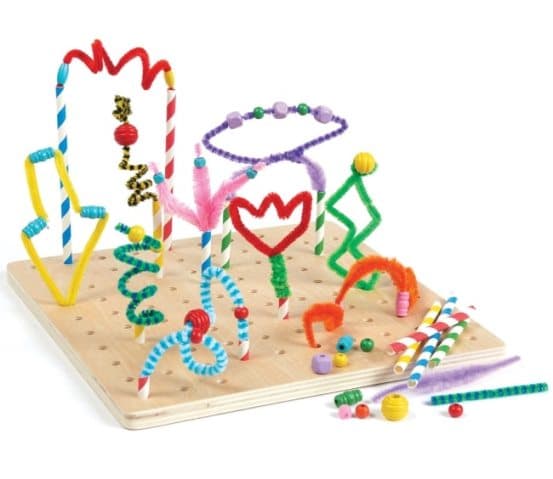 Image credit: Montessori Services
Why is it helpful?
This sculpture set inspires the creative mind of kids. They can build any structure according to their imagination, which keeps them away from screen addiction. Also, this early knowledge about the arrangements and constructions helps them in schools to understand design and science better.
Features
A 10 square inch wooden board
Total of 116 wooden beads of different colors and shapes
95 fuzzy sticks
Almost 60 straws are made of paper.
Customer Reviews
This toy set is popular among customers due to its ability to keep kids busy. According to them, this toy enhances kids' concentration power.
Pros
There is no limit to how many structures kids can make
The strikes are flexible enough to bend them when the kids want to
Kids can also cut the paper straws according to their preferable sizes
Playing these games will involve their eyes and hands. Thus, the coordination between these two will also increase.
Cons
Have the hazards of choking as this kit contains several small parts.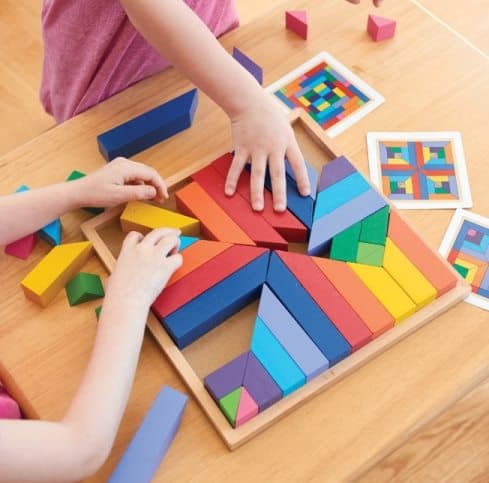 Image credit: Montessori Services
Why is it helpful?
Children make their own creations in pattern play by synchronizing the design cards. So this is kind of engaging work. Also, it requires children to guess at different challenging levels that improve their prediction of what comes next.
This skill will help them with problem-solving and quizzes they will encounter in school. Overall, the creativity of the toy makes it one of the best learning toys for preschoolers.
Features
A 10.75 square inch wooden tray
40 blocks and 40 pattern cards.
Customer Reviews
No one has anything negative to say about the game in every user experience. They said their kids liked the toys and that their skills are more developed than before.
Pros
Kids can predict in advance an upcoming event or a difficult situation
They understand whether there is a logical connection between some separate situations
This game improves their reasoning
It promotes their creative curriculum as there are some puzzles to match.
Cons
Some blocks are small in size, which possess choking hazards for kids
Not suitable for children under 3 years old.
Conclusion
Considering the importance of picking appropriate toys, we tried to compile the 20 best educational toys for preschoolers in this article. This will assist you while choosing a toy that will help your kids in their creative learning.
Also, those should assist in developing vocabulary, language, and problem-solving skills. Likewise, most of the toys that we mentioned are highly recommendable for preschooler kids. A few of them have some cons which are negligible compared with their benefits.