Keeping young minds busy with fidget toys can improve their focus on studying and help them overcome learning disorders. Among hundreds of fidget toys available out there, some toys are especially helpful in the classroom to provide some room for play.
We picked the 10 best fidget toys for classrooms that stimulate young brains, engage them in fun occupations, and help them absorb lessons better. They are specially made for the classroom environment we found from many user experiences.
Explore the pros and cons of these toys and learn how they benefit your kids in the classroom. Let's begin.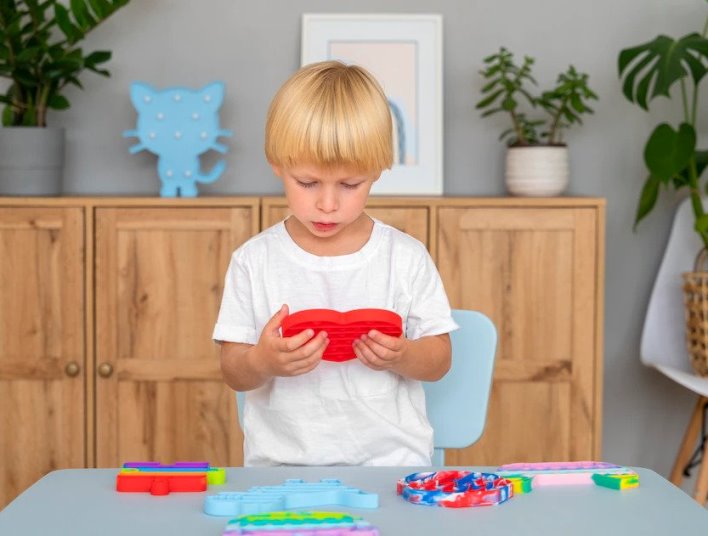 Image source: Freepik
Reviews of the Best Fidget Toys for Classroom
Here are the best fidgets for classroom we chose. See us explore one after another.
Why Is This Product Helpful for Preschoolers?
This fun toy is named infinity cube because the blocks are hinged in a way. So your kids can flip them unlimited times without going back. At the same time, it changes shapes with a tactile sound.
When your kid is busy with this toy, they are mostly focusing on how the cubes rotate and change shapes without stopping. One or both of their hands are usually busy with the toy, while the tactile feedback gives sensory relief.
As a result, preschoolers will keep from bad fidgeting habits, like nail biting. And it can be really soothing to make kids focus in their classes.
Features of the Product
Here is a quick overview of the features of this fidget toy.
The cubes are made of ABS plastic.
It is small enough for kids to carry in their bags but large enough to keep them from biting or swallowing the toy.
Vivid colors on the toys are attractive for kids. So, they might easily choose this toy over anything else.
Recommended to wipe with a damp cloth.
Customer Reviews
Before you buy this toy, see what customers say about the product.
Most customers said this toy is a great source of stimulation for preschoolers. It effectively keeps kids engaged, so they won't usually be habituated to bad fidgeting. Parents praise the compact dimensions of the toy because kids can easily carry it in their pockets or bags.
Though some customers complained about paint chipping after some time, the overall opinion about durability is positive. And most parents agreed that their kids found this toy so much fun, and it helped keep their hands busy.
Pros and Cons
Check the pros and cons of this toy here.
Pros
It works wonderfully to keep restless or naughty kids busy
The smooth and rounded design is safe for all kids
These toys are also beautiful as desk accessories
It helps kids spend time in a fun way
Colorful design to grab kids' attention right away
Enhances focus and concentration to improve the ability to study.
Cons
The paint chips sometimes
Its hinges could be a bit better
Why Is This Product Helpful for Preschoolers?
It is a hover ball with cool light effects to cheer up your kids' moods. As it requires constant movement of hands and focuses on the position of the ball, this toy improves the concentration of preschoolers.
In most cases, they might love to play with friends with this ball, increasing their ability to socialize.
Throwing the ball at the correct angle and catching the flying ball also help them keep their minds busy. And as it requires some physical movement, kids will have some stimulation. As a result, they will have better attention when they return to class.
Features of the Product
It has some intriguing features to attract kids. Check them out.
The ball is designed to hover over the palm and take different flight paths based on the throwing angle.
It can be used to play back and forth, catching and throwing like a boomerang.
This flying ball is made of plastic and is completely safe for kids. The outer casing is designed to protect kids from risks.
You can use USB cables to recharge the ball. It lights up in the preset modes to make kids happier.
The size of the ball makes it highly portable so that kids can carry it in their bags.
Customer Reviews
According to most customers, this hover ball is a very fun toy for kids of all ages. Though it took a bit of practice to correct the throwing angle, most kids loved playing with this toy. And as the outer shell is soft enough, it is risk-free for kids.
But most of the parents were worried about the battery life. Though the brand claims the battery life to be up to 30 minutes on a full charge, most customers said that the toy only lasts up to 15 minutes. And it took longer than expected to be completely charged.
Pros and Cons
Here's what you need to check before buying the toy.
Pros
Attention-grabbing and fun toy for almost all kids
Introvert kids can start socializing with this toy
Cool LED effects for elevating the mood
Throwing and catching the ball provides physical and mental stimulation
The design and material are safe for preschoolers
It is very lightweight, so kids can handle it easily
Rechargeable toy for longer use.
Cons
The durability of the ball can be an issue
Runtime is not what you might expect
Why Is This Product Helpful for Preschoolers?
You might have already experienced that your preschoolers can often poke their friends during class with their feet. This fidget band for chairs or desks is extremely helpful in keeping their feet in constant motion. So they will have less time to poke others.
Plus, the band can be fitted in multiple orientations so that kids can stretch the band from top, bottom, front, and back. As a result, they will try different angles with the band, which will help them eliminate distractions from multiple things.
Overall, this band is helpful for improving the focus of preschoolers in the classroom.
Features of the Product
Here's why this fidget band stands out.
The band is made of soft rubber
Unlike many other fidget toys for the classroom, this band produces zero noise
Installing the kicking band is super easy. Stretching the band will do the work
Designed to fit chairs or desks of varying sizes over ten inches.
Customer Reviews
Most parents said that the band worked wonderfully to keep their kids self-regulated in the classroom. Even some teachers bought these bands for their classes, and all kids loved the band so much. Wiggling the feet on the band is a fun activity for kids.
At the same time, it helped them to focus on their studies and remain quiet during class. During the break, they could easily hop on the band or tap it with their feet. Overall, there weren't many downsides to this toy.
Pros and Cons
Before you spend money on the top, keep the following points in mind.
Pros
The simple fidget band is extremely easy to use
It fits various chairs and desks
Built with high-elasticity rubber to extend the durability
It helps kids regulate their feet movement without any noise
The band supports several actions from any direction
Introvert kids can benefit from this band as it doesn't require interaction.
Cons
It comes in only one color, which might not appeal to all kids
Why Is This Product Helpful for Preschoolers?
The pen is absolutely satisfying for any kids out there. Each package contains three pens with different colors. And each pen has dual-colored liquid to create floating droplets.
Watching them descend is a pure joy for kids of all ages. This increases the visual awareness of kids, which helps them during lessons in the classroom. It is also helpful for improving tracking skills. Kids can be busy for hours with these pens.
Kids will also focus more on writing with these flair pens as these pens write great. Overall, it is one of the most effective sensory toys for classroom.
Features of the Product
Check the features of this bubbling pen:
It has a transparent shell to make the liquid inside the pen visible
The liquid is oil-based and bubbles up when descending, creating a visually appealing view
There are two colors on each side of the pen to enjoy multiple bubbles
The pen writes smoothly, like most other pens
It is built with plastic and is fairly durable. Kids or even adults can use the pen.
Customer Reviews
Most parents loved this pen because their kids showed greater interest in completing homework with the pen. It is highly entertaining to watch the pen while writing. So, kids tend to hold the pen for longer and it manipulates them to use it repeatedly.
However, some parents have complaints about the girth of the pen. As it is a bit wider than regular pens, some kids might have a hard time holding or writing with the pen. Otherwise, the pen is good enough for kids of all ages.
Pros and Cons
Here are the advantages and disadvantages of Liquipen.
Pros
The plastic is very soft, so kids can write for longer with the pen
Its nib can be retracted by twisting the pen so that kids don't get hurt
These colorful pens are also amazing as desk pieces
It improves the sensory system of kids and increases visual awareness
Colored beads slowly descend to elongate the effect.
Cons
The plastic isn't very durable, so kids might break it
These are only available in a set of three pens.
Why Is This Product Helpful for Preschoolers?
If buying one fidget toy doesn't seem enough for your kid, you can actually buy this bunch of fidgets for classroom. This set has 35 different toys, each designed to provide your kids with the necessary mental and physical stimulation.
The set has a magic ball, grape ball, liquid motion timer, puzzle, foam putties, mesh fidget toys, squeeze toys, slime putties, etc. These toys keep the hands and minds of your kids busy to improve their response to various situations as well as visual awareness.
Foam and slime putties give a satisfactory feeling. The liquid motion timer is more like the Liquipen we discussed above. There are other stretchable toys and mazes that kids can play with.
Features of the Product
Here are the features of this fidget toy set.
The set has a vast collection of sensory toys for kids
These toys are made of ABS and rubber, emitting no odor or toxic elements
All toys are designed to meet safety standards
Maze and other puzzles are designed to improve the analytical ability of kids through games
Foam and slime putties can be turned into various shapes to help kids to explore creativity.
Customer Reviews
Most parents think that this toy set is a great purchase, especially because it has multiple toys of different types to entertain kids. Sensory kids can benefit so much from this set. Almost everyone agreed that their kids loved the toy set and started playing right away.
They also interacted better with their parents after playing with these toys. Though some of the squishy toys weren't durable enough, most of the toys worked fine.
Especially plastic toys lasted for longer despite the abuse kids did. Fidget spinners were basic, but getting everything in one package is good.
Pros and Cons
The set comes with multiple advantages and a few drawbacks. Check them out.
Pros
18 different types of toys in the set to bring variation
The set helps kids with ADHD, so you can try it with your introverted kids
Puzzles in the set improve the analytical ability of kids through fun
Visual and auditory awareness is improved with this toy set
All materials are non-toxic, so the toys are completely safe for kids.
Cons
Squeeze toys are less durable than the others
You might feel compelled to buy so many toys instead of one or two.
Why Is This Product Helpful for Preschoolers?
You might already have seen a similar toy above. This hover ball has an AI chip that makes the ball take smart flight paths to entertain kids of all ages. With the boomerang effect, kids can play on their own or join their friends or siblings to have a fun time.
The ball increases the functional skills and intelligence of kids by making them follow the flight path. As they need a lot of hand and foot movement to be in line with the ball, it also improves their limbs. Overall, this is a nice fidget toy for kids.
Features of the Product
It has a gyroscope inside to make the ball hover above the palm
The ball is made of ABS material, which is very lightweight and portable
Its outer shell conceals the propellers to make the ball safe for kids
This flexible toy can withstand a lot of abuse and still last longer than other fidget toys
The ball can be recharged via a USB cable. It takes about 25 minutes for a full charge, and the runtime is about ten minutes
It has LED to generate cool effects while flying or in hand.
Customer Reviews
We went through various platforms to find what customers are saying about the product. Most of them seemed to love the toy so much because their kids had much fun playing with the orb ball. The boomerang effect amuses kids so much.
Although they needed some time to be familiar with the throwing angle, the ball ended up being one of their favorite fidget toys. The only complaint about the toy is its battery life. It runs for about ten minutes on a full charge, so the toy is more suitable to use at home. But some parents thought it would keep their children from playing all the hours in the classroom.
Pros and Cons
Here are the pros and cons of this fidget toy.
Pros
Nicely designed to attract kids regardless of their types
Colorful lights enhance the mood and eliminate boredom or stress
Multiple flight paths depending on the throwing angle
Easy operation with just one hand
Cool flying patterns to improve visual awareness
High-quality material for better durability.
Cons
Flight paths aren't always uniform
Kids need some time to be used to it.
Why Is This Product Helpful for Preschoolers?
This rounded cube has a collection of multiple sensory toys to improve focus and attention. The buttons and joysticks on the cube are perfect for relieving stress and helping kids with ADHD or SPD to improve sensory functions. It has a soft surface that gives a satisfying feel while holding the cube.
As some components of the cube are silent, kids can easily keep their hands and minds busy without disturbing others. It helps them give up bad fidgeting habits and increase focus on their lessons. Plus, the cube improves the limb motion of kids in different directions.
Features of the Product
The cube has rounded edges and corners to make gripping the cube easy
It is made of ABS plastic and soft silicone
There are six different toys on the cube surfaces, including clickable buttons, a joystick, gear wheels, an on/off switch, etc.
The toy is small enough to carry in a pocket. Plus, a convenient carrying case comes with the toy
It is available in multiple colors and designs.
Customer Reviews
Many parents claimed that the toy helped their children to develop cognitive functioning. It is also very helpful for staying focused during tasks. The tactile feedback of the buttons helped kids with ADHD improve their sensory perceptions. But everything about the cube didn't seem to be so good.
Some customers said that the wheel starts wobbling after some days of use. So, it needs to be improved. Though the flip switch works fine, the dials also wobble because they don't have any resistance inside. This rattling may make the cube go off the grid. But overall, the toy had a decent rating from the users.
Pros and Cons
These are the pros and cons of theFube.
Pros
Designed beautifully to accommodate multiple fidget toys
Decent build quality with premium plastic and silicone
Ergonomic shape so that kids can hold the toy for a longer period
Tactile buttons and vibrant colors to attract introverted or extroverted kids
Improves sensory functions by increasing focus
Durable carrying case for easy portability.
Cons
Some parts don't have strong connections with the cube, so they start wobbling
The price is a bit higher compared to similar fidget toys.
Why Is This Product Helpful for Preschoolers?
The main benefit of this fidget toy is the endless possibilities of how a kid can creatively rearrange the tangles. It challenges the kids' motor skills, so they become much more able in motor functions. At the same time, the toy helps them overcome anxiety disorders or bad fidgeting habits.
They also learn to think creatively as they can turn the tangles into various shapes to draw their imaginative characters. And as the combinations are unique, kids get more focused on what they are doing. So, it is a pretty good toy for preschoolers.
Features of the Product
The tangles come in a set of three. Kids can put them together to make new shapes and characters
Every joint of the tangles can be rotated in any direction, which gives the toy its unique ability to provide endless orientations
The toy comes in vibrant colors to attract kids
It has soft and durable materials for a good hand feel. Designed to withstand adverse situations
The dimensions are small, so kids can easily carry the toy in their pockets.
Customer Reviews
One common thing in most reviews is how helpful the toy is for kids with sensory challenges. It was a fun toy for the kids to play with, and they started thinking differently about creating new shapes with the tangles. As the toy keeps the hands busy, kids didn't get distracted by anything else.
But the problem was with the size. As the tangles can be separated into small pieces, kids could swallow them. Most customers agreed that this toy wouldn't be good for children under three years old. Everything else is good enough to keep kids busy and focused.
Pros and Cons
Let's check the pros and cons of the toy.
Pros
Soft and squishy to give that sensory satisfaction to kids of all types
It opens the door to creativity because kids can try different shapes
The endless motion of the tangles is amusing for children with sensory challenges
The vibrant colors of the tangles are attractive for kids or even adults
The tangles are fairly durable, and each part can be put in a different orientation.
Cons
The toy isn't suitable for toddlers because of the small parts
Tactile feedback at joints would be better.
Why Is This Product Helpful for Preschoolers?
Endless possibilities to create something new and unique is the biggest benefit of this toy. Using the magnetic pentagons in the set, kids can design various shapes, like spheres, half spheres, etc. The magnets align automatically with a tactile sound that improves the auditory awareness of kids.
With this toy, kids can take their creativity to new levels. While thinking about how the magnets can be organized to design something unique, the cognitive functions get improved. And the toy can keep your kids' minds busy to make them more focused on their lessons.
Features of the Product
Twelve pieces of magnets are available in the set. Each magnet has a pentagonal shape, creating a perfect sphere when combined
The surface has various crystal patterns in different colors to make the toy visually appealing. It is also very smooth to the touch
It has different patterns on the front and the back. So, changing the orientations gives a new look
The sphere has a diameter of 2.22 inches, which is big enough to prevent kids from swallowing it
Magnets are easily stackable and pinchable.
Customer Reviews
According to most customer reviews, this fidget toy is great fun for kids. They simply love the magnetic action of pentagons and as the parts align with each other. Stackability is also fun, as kids can quickly combine all the parts. Older kids find the toy more fun because they can reorganize it in different orientations.
The only complaint about the toy was the need for more parts to make bigger designs. You will need multiple sets to create unique shapes, which might be expensive for some parents. Otherwise, this toy is an excellent way to keep kids busy.
Pros and Cons
Here are the pros and cons of this magnetic sphere.
Pros
Crystal pattern design to be charming for all types of kids
Magnetic connection points create sound to improve auditory functions
Smooth edges of the pentagons are safe for kids
Unique shapes can be designed with the pentagons to improve creativity
Motor skills are polished through the limb movement
Automatic stackability to organize pentagons easily.
Cons
One set isn't enough to make great shapes
The toy isn't suitable for toddlers.
Why Is This Product Helpful for Preschoolers?
This is a fidget popper set with a cute unicorn bag to hold all the toys. These pop toys allow kids to enjoy sensory satisfaction through these soft and squishy popping bubbles. Playing with these toys improves the focus and attention of kids in the classroom.
Accordingly, fidget bracelets help kids regulate their hand movement so that they keep from hurting others. Every pop toy has multiple bubbles, so kids will learn to focus on one thing unless the task is completed.
Features of the Product
The fidget purse and other toys are made of soft silicone to deliver a great and soft hand feel
It has multiple fidget toys like popping bubbles in different shapes, fidget bracelets, key rings, etc
The purse has an adjustable strap to easily carry these toys while traveling
Each toy is designed to be ergonomic and non-toxic, so kids can play with these toys for a long time
The toys come in multiple colors and designs to attract kids.
Customer Reviews
The adorable purse is a precious gift for most children, as their parents said. Kids seemed to love the popping bracelets as they could continuously pop the bubbles. The purse was the center of attention as it had larger bubbles to pop. Also, the items in the purse were so colorful.
But some parents thought most of the toys in the purse were popping toys. It would be better if the purse had some other types of fidget toys to bring variation. Overall, almost all customers were happy about how their kids got engaged with the toys and improved their focus.
Pros and Cons
Check the list of pros and cons before buying this toy.
Pros
The soft surface is made of silicone to be safe and comfortable for kids
This toy set is more suitable for introverted kids as they love popping alone
It improves the sensory awareness of children through various toys
The toys are very lightweight, so kids can easily carry the whole purse
Colorful designs are very lucrative for kids of all ages.
Cons
Some toys may chip over time
The set needs more variation to address a wide range of kids.
Conclusion
Fidget toys effectively improve the sensory functions of children by keeping them focused on the movements and feedback of the toys. Visual and auditory awareness is greatly improved while playing with these toys. And kids learn to express themselves creatively to overcome ADHD or other challenges.
But finding the best fidget toys for classroom may be tricky. We went through a lot of fidget toys to pick the top 10 sensory toys that might help kids improve their focus and attention in the classroom. These toys are affordable, safe, and fun to play with. See your kids bloom and develop cognitive functions.