The room is the ideal place to study, because in solitude you can read aloud, listen to music or something like that. However, studying at home has its advantages and disadvantages.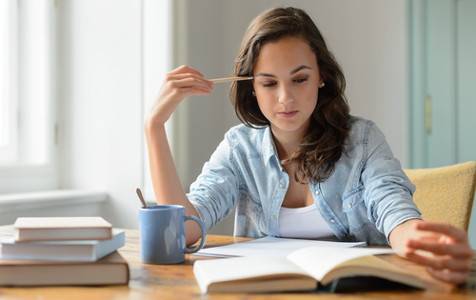 The majority of university students still prefer to study in the comfort of their own home. The room allows creating a particular learning space that is possible to adapt to every career, study or need. However, not all benefits. We also know the disadvantages of studying at home.
Advantages of studying at home
The biggest advantage of studying at home is that you have everything at your disposal without having to leave the chair. In addition to books and notes, you can use the computer, the printer, the scanner…
The comfort of your room also allows you to eat and drink while you study. Although it is always discouraged to take any food that stains, you can accompany the day with nuts, chopped fruit, juices, milkshakes, etc.
The solitude of your room allows you to read aloud and repeat the syllabuses, being able to perform simulations and practices of the presentations. Are you one of those who studied with music? You will be able to hear your favorite songs without using the annoying helmets.
It does not need transferences or loses a minute to go to eat, since you can stop studying and immediately take the plate. Afterwards, you can take a nap of about 15-20 minutes to replenish your strength and regain the energy you needed to continue studying.
You can study how you want, with the comfort of a tracksuit and shoes at home. In addition, not depending on a schedule, you can take advantage of the nights or mornings to study. You set the calendar.
Interested also: Where to study better?
Disadvantages of studying at home
You will need to have a number of elements to start the study, such as a large table and an ergonomic chair. If you do not have space in your room, you may need to move your study area to the living room.
You will not have anyone around you to ask a question or make an appointment. In this case, you will have to pick up the phone to call a friend, send an email to the teacher or wait for the next day to discuss it with a partner.
Procrastination is often common among university students who study at home, since individual learning requires some constancy, discipline, and responsibility.
Studying all day at home can be quite exhausting, and you may need some time to enjoy the outdoors. In addition, being in the room for so long can increase the temptation of lying in bed, surfing social networks, or taking a nap between the topics.
Silence is essential to study and concentrate properly, although sometimes your home (if you live with more people or have noisy neighbors) is not the oasis of tranquility that you need. If you can not focus on the subject, perhaps you also entertain more because of the easy access to the Internet, your books, your video games, etc.