You can become an LPN in the shortest time possible via an accelerated program under regular circumstances. It can be a vocational certification or a fast-track LPN program. Upon completing the course, you must pass the NCLEX-PN exam to start your career as a practical nurse.
See, pursuing a career that won't put an individual in too much debt, an entry into the healthcare sector by becoming an LPN can be the answer. It will make you a professional quickly and earn a satisfying living.
That's not just it, however. There's more behind the curtain. In this write-up, I'll explore all the different aspects of LPN. Let's get started.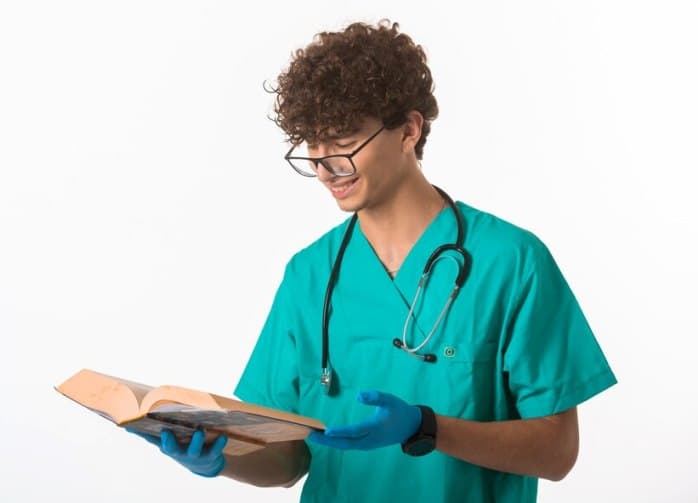 Picture Credit: Freepik
What is the Fastest Way to Become an LPN (Licensed Practical Nurse)?
Unlike the standard route, you can complete the Licensed Practical Nurse course within months through a vocational diploma and fast-track LPN program. This will make you an LPN in the quickest time possible.
Let's skim through the fastest way to become an LPN:
Vocational School Diploma Program
In the quest to become an LPN, vocational school diploma programs are one of the quickest and shortest paths available. This is a fabulous way to get started for anyone with time constraints and looking for employment.
Diploma programs for LPNs can take 9 to 12 months to complete. It's way faster than regular associate degree courses that require 2 to 3 years.
With an LPN diploma-accredited program, you'll learn basic nursing skills through academics along with relevant clinical experience. However, it is not to be confused with a degree program with more diverse skill sets. And it's more credible, to say the least.
Typically, nursing & technical schools, community colleges, and other schools offer this short program. As per average tuition fees, it ranges between $10,000 to $15,000.
Read Also: How to Become a Sports Medicine Nurse?
Fast-Track LPN Programs
The fast track program is another accelerated LPN program. It is by far the quickest way to become a practical nurse. But that comes with a catch, which people often miss out on.
Fast Track LPN programs take only 6 months if you are already a Certified Nursing Assistant (CNA) or have completed a few college credits. Otherwise, it will take twice that time, just like the vocational program.
This LPN program will prepare you for the NCLEX-PN (National Council Licensing Examination) exam. You are ready to enter a professional nursing career once you pass that.
A key benefit of taking the fast-track LPN program is that you can attend classes in person or online. However, not all institutes offer this flexibility.
In terms of cost, on average, fast-track LPN programs cost around $12,000 to $25,000. But it can grow up to $30,000. It depends on how the course is designed in different institutions. But it definitely is more expensive than vocational LPN courses.
Once you decide to enroll in an LPN program, note that you need to fulfill some educational requirements. Let's jump on to the next section to learn more about this.
Note: LVN and LPN are the same. It's just the difference in naming. Only In California and Texas, they call it LVN.
Educational Prerequisite to be an LPN
A formal education is required to partake in the LPN course. Conditions, however, are subject to change depending on the college or school. But they don't deviate too much.
See, under typical circumstances, a High School Diploma or GED is absolutely mandatory to be a part of any LPN program. So, you have to show academic transcripts or certification as proof.
It's worth noting that very few institutes may require the completion of an additional nurse-assisting course. They will mention this special requirement in the prerequisite section, nonetheless.
How to Choose An Accelerated LPN Program?
People likely get carried away while choosing the fastest route, becoming an LPN. One of the most predominant grounds is the keen interest in quick results.
There's no harm, but you need to be more careful while selecting an accelerated LPN program for better education.
Start off with the simple step of researching your state's requirements. Each state has its own licensing criteria; your chosen LPN program should meet that.
In addition, you should look for the characteristics below in an accelerated LPN program.
Check whether the LPN program is accredited by an acknowledged accrediting body such as ACEN (Accreditation Commission for Education in Nursing) or CCNE (Commission on Collegiate Nursing Education).
Accelerated LPN programs should span over a short period compared to regular courses, 12 months at max.
Evaluate admission requirements such as prerequisites, GPA, and entrance exam. Remember, great institutions are selective in allowing students to undertake LPN programs.
Be certain whether the program includes abundant clinical experiences. This must include hands-on training in diverse healthcare settings.
Review and verify the qualifications and experience of the faculty members.
Consider previous NCLEX-PN pass rates. A high percentage means they are mostly organized and disciplined in maintaining the educational quality.
Check the costs, like tuition fees, additional expenses, and financial aid opportunities, before you pull the trigger for an LPN program.
Visit Also: How To Pass The TEAS Test Without Studying?
Career as a Licensed Practical Nurse
Taking LPN as a profession is rewarding in the United States of America. It is considered a noteworthy character in the healthcare industry. And the role to play is crucial from every angle — ensuring the well-being of patients.
See, at the end of 2022, the forecasted nursing shortage across the US was around 1.1 million. In the coming years, LPNs will help to cover up this massive deficiency.
As per the U.S. Bureau of Labor Statistics, the job outlook for LPNs in the next 10 (2022-32) years is 5%. This is faster than any other occupation in the country. The number of available jobs in 2022 was 655,000.
Therefore, LPN as a career will see brighter days in the foreseeable future. Although the pay gap between an RN (Registered Nurse) and an LPN is roughly $25,000, you can still enroll in a LPN to RN bridge program and achieve a BSN degree.
How Much Can you Earn Being an LPN?
Let's face it: being any sort of professional, if you don't get paid enough, the motivation to pursue it diminishes quickly.
In that regard, the paycheck for a fresher Licensed Practical Nurse is quite envious. According to the U.S. Bureau of Labor Statistics, in 2022, the median pay for an LPN/LVN with no experience was $54,620 per annum. It translates to $26.26 per hour.
See, salary varies from one state to another. In California, the average pay is $65,140/year, whereas in Rhode Island, it is $59,800/year. There's always scope for earning extra money if you do shifts on weekends or extra hours.
Like other professionals, experience earns higher salaries. As with time, expertise in clinical work increases, hence higher pay.
Closing Thoughts
No matter what course or program you take to become an LPN in the quickest time possible, success lies in your dedication and hard work. Lack of commitment will eventually answer with no purpose.
As you decide to embark on this career path, grow empathy within yourself to deliver compassionate patient care.