You must have at least a Bachelor of Science in Nursing degree first. Then, you need to pass the NCLEX-RN to be a registered nurse. After that, you can start gathering experiences to become a sports medicine nurse.
Sports physicians treat various kinds of injuries. Whether a professional athlete or a youth academy member, sports nurses assist them during and post-treatment. So, to become a sports medicine nurse, there is a process to follow.
In this article, I will provide a step-by-step guide and shed light on the skills and responsibilities of this position and some effective tips.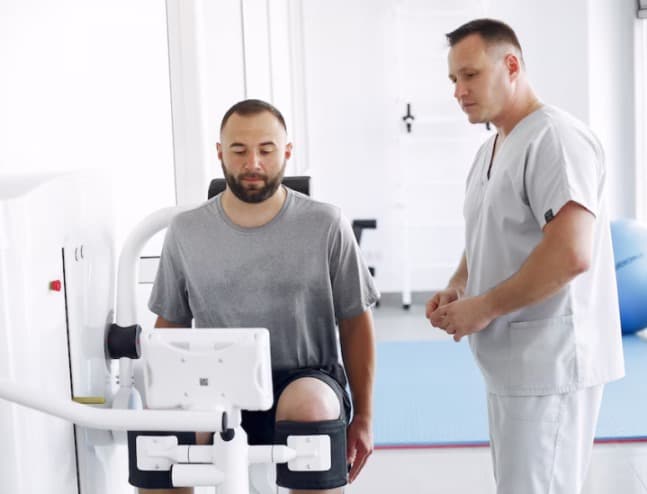 Image Source: Freepik
Sports Medicine Nurses and Their Roles
Sports medicine nurses specialize in caring for people suffering from injuries like:
Hamstring stresses or sprains
Broken bones
Muscle fatigue
Lower back injury
Tendonitis
Knee injuries, etc.
In general, sports medicine nurses work as an aid to sports physicians. Besides, they use their knowledge and experience to cast or dress wounds for better healing.
Pain management and medication monitoring is another important responsibility for sports medicine nurses. They also help sportspersons recover and regain mobility faster. Helping in the surgical and diagnostic process is also the duty of sports medicine nurses.
If you are interested to be one, remember these responsibilities.
Read Also: How To Become a Nurse Practitioner With a Biology Degree
How to Become a Sports Medicine Nurse: Step-by-Step Guide
In the healthcare industry, sports medicine nursing is a highly demanding job. So, the requirements for this position are also high. Here is a list of requirements you need to fill up to be a sports medicine nurse.
Step 1: Get a BSN Degree
The first thing you should consider to become a sports medicine nurse is to get a Bachelor of Science in Nursing. You need to have this degree to be a registered nurse in the US.
Remember, you may have a diploma in nursing or an associate degree, but that won't be enough to be a registered sports medicine nurse.
Step 2: Take the NCLEX-RN
Once you have a bachelor's degree in nursing, you can take the NCLEX-RN. It stands for the National Council Licensure Examination for Registered Nurses.
You need to prove your nursing knowledge and skills in this test. If you can't pass the exam at the first attempt, you can retake the exam.
But the number of allowed retakes is limited to one in three months. So, you better prepare for the exam and try to pass it on the first attempt. Remember, you must pass this exam to be registered as a nurse here in the US.
According to the US Bureau of Labor Statistics, three million nurses have already been registered through this exam.
Step 3: Earn Additional Experience and Certifications
Once registered as a US nurse, you need to earn some hands-on clinical experience. Getting an associate degree is also a good way to prove your capability in sports medicine nursing.
You can join internship programs to gather experiences. Plus, getting an Orthopedic Nursing Certification can be a good idea.
If you can't gain experience in the above ways, you can also volunteer as an athletic trainer. Then, you can apply for the Athletic Trainer Certification.
But if you want to work in other branches of sports medicine nursing, you can also earn certifications like recreational therapy certifications or so.
Step 4: Earn State Licenses and Start Your Career
Even after completing all the steps above, you need to fulfill additional requirements based on which state you will work in. So, check the necessary requirements for the respective state and fulfill those requirements.
Then, you can start your career as a sports medicine nurse. As you gain more professional experience, you will have a lot of chances to improve throughout your career.
What Skills Do You Need to Become a Sports Medicine Nurse?
Besides subject-oriented knowledge and experience, you need a lot of other skills to become a successful sports medicine nurse. I am listing some of those skills here for your convenience.
Communication
Besides caring for sportspersons, sports medicine nurses also work as an intermediary between the athlete and the physician. So, having crystal clear communication skills is a must here. Good nurses should be able to communicate with multiple entities verbally and orally.
Physical Strength
As sports medicine nurses, individuals need to work for long hours if necessary. These include outdoor work that can be pounding. Anyone wanting to become a sports medicine nurse should be able to withstand immense pressure during the work.
Professionalism
Injured sportspersons can come from many different backgrounds. But, sports medicine nurses should always show the utmost professionalism in terms of transparency, care, and respect. Being emotionally maturing during treatment is also expected from a good sports medicine nurse.
Empathy
Many might confuse being professional with being rude. Sports medicine nurses should never be rude. Instead, they must show the highest empathy for the injured sportspersons going through trauma.
Besides physical care, nurses need to support and encourage patients mentally to speed up their recovery.
Decision-Making
Being able to make quick decisions in different situations is a necessary skill for a sports medicine nurse. In some cases, it might take time to reach the physician. So, nurses should be able to adjust the treatment according to the situation.
Time Management
Sports medicine nurses must have good time management skills to manage every scheduled task in order. From administering the medication to reporting the recovery progress, nothing should be left behind.
Technical Skills
Other than just taking care of the athlete, sports medicine nurses should be able to perform certain tasks. For example, they must learn how to read X-ray or CT scan reports.
Teamwork
When it comes to sports medicine, multiple parties, such as patients, physicians, sports authorities, etc., are involved. Sports medicine nurses should be a reliable part of the team and coordinate their tasks with all stakeholders.
This will ensure the treatment is being delivered correctly. Nurses also play a great role in administering medication and discussing the side effects.
Dedication
At the end of the day, nursing is a job that requires high dedication. You must be willing to go the extra mile to bring happiness to everyone's face. To do this, you need to learn additional skills while working as a sports medicine nurse.
FAQs
Here are answers to some commonly asked questions.
Q: Do you need to be an athlete to become a sports medicine nurse?
A: No. It's not mandatory to be an athlete to become a sports medicine nurse.
Q: Where do sports medicine nurses work?
A: The most common workplace for sports medicine nurses is orthopedic sections in hospitals. Besides, they can work in physical rehabilitation centers, sports academies, gyms, or educational institutions.
Final Thoughts
Sports medicine nursing is a lucrative career for many. But only some know what the requirements for this position are and how to get started. So, I tried to make a detailed guide on the requirements, job responsibilities, necessary skills, certifications, and more.
From fulfilling educational requirements to getting the necessary certifications, you need to complete each step carefully to become a sports medicine nurse. After you have enough clinical experience, you can start working as a professional nurse in the sports medicine sector.