Every high school graduate knows about the class ring. A class ring is a piece of timeless commemorative jewelry that evokes a student's memories, identity, and pride in their academic institution. That's why you'll see a veteran high school teacher or an MIT grad wearing it for years. But is there a time to stop wearing it?
Well, there isn't any unspoken rule to stop wearing class ring, and it is entirely up to the wearer. You're allowed to take it off any time after the commencement, where you turn the insignia outwards to showcase to the world your achievement. Since you may be uncomfortable with its bulky look or can't emotionally connect to it, there's nothing wrong with putting it in the box along with yearbooks and letter jackets.
But remember, some people think it's their identity and keep it eternally! The emotional significance of a class ring can impact your decision on how long it should be worn. This article elaborates on that fact to help you decide when to wear it and when to stop.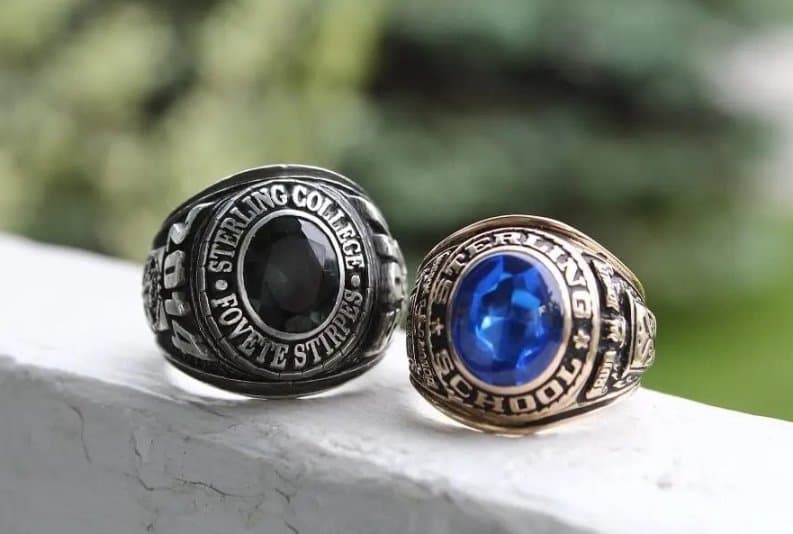 A Brief History of Class Rings
In the US, it's a popular tradition for students or alumni to wear a class ring to commemorate their graduation, typically for high schools, colleges, or universities. So it's also referred to as a senior, graduation, or grad ring.
Its history dates back to ancient Egypt when specific sects used to wear distinctive rings to demonstrate their connections to particular causes. Later the Romans adopted them as fellowship rings. The tradition was then adopted in the military schools, which gave birth to the fellowship rings in the academic sector.
It started back in 1835 when cadets in the West Point Military School were given a unique ring to remind them of the school's closely held values. The ring signified the pride of graduating from a distinguished military institution. The idea of a class ring became popular, and many institutions like Harvard, Princeton, and Yale adopted it and started giving it to their graduating classes.
The ring became so widespread that all American high schools and colleges have adopted it. Although many think the demand for class rings is declining, their emotional significance remains as crucial as it used to be across colleges in most parts of America. Since Gen Z has become more fashion-oriented, they want a good mix of fashion and commemorative elements in their class rings. So even though the class ring or signet ring has become expensive, Gen Z doesn't mind.
The Intent of Wearing a Class Ring
The intent of wearing a class ring is more of a novelty than simply wearing it as an accessory. So it's essential to understand its purpose before you know when to wear it and when not to.
When the class rings originated, the primary intent was to show unity among the group by wearing a similarly designed ring. Most institutions still follow the tradition of uniform shape and design in the ring to represent unity.
Besides unity, the class ring is now worn to commemorate a student's graduation from college or high school. It signifies the student accomplishment that a student achieves after reaching senior class status. Some institutions arrange the Class Ring Ceremony to celebrate the occasion. Wearing a class ring has many other special meanings, such as:
Accomplishment of graduation
Becoming a part of the alumni association
Sharing common values of the institution as a student
The close tie among students
A beautiful relationship with faculty
Honor and service of the institution that's to be experienced and lived even after leaving the place.
When to Wear Class Ring?
The intent of wearing the class ring and what it symbolizes pretty much clarifies when to wear the class ring. Here's your answer if you're looking for exact eligibility criteria for wearing a class ring at different academic levels.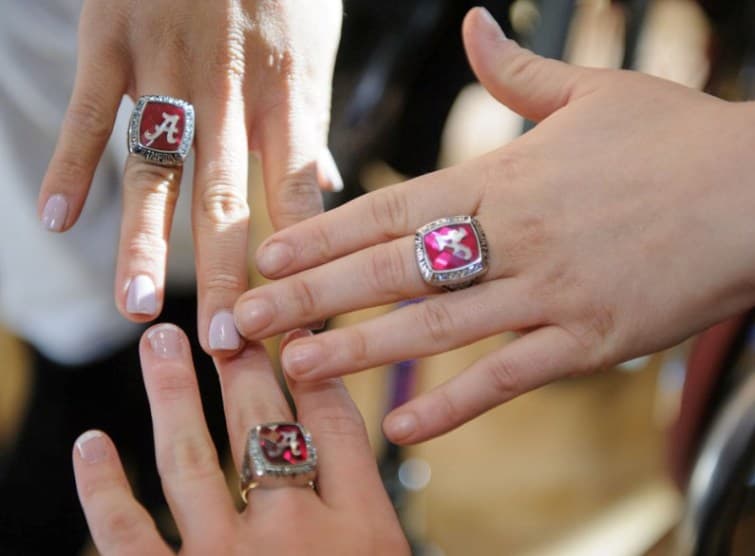 High School Class Ring
In high school, you become eligible to wear a class ring in your senior year (12th grade). Since it takes a few months to arrive after you order, students place their order for a class ring within the spring of their junior year.
However, schools in some part of the US requires you to order the class ring earlier as they arrange the Ring Ceremony somewhere around the 2nd semester of the junior year. Students place their orders in a way that they can attend the ceremony. Even if their school doesn't hold a ceremony, they ensure they get it by December or before Christmas to wear it throughout the senior year.
College or University
In colleges or universities in the US, a class ring is worn in the final academic year while pursuing an associate's or bachelor's degree. In some colleges or universities, the obsession with a class ring is pretty high as they think it symbolizes affection and affiliation with the institute. Since completion of units or credit hours may vary from student to student, the final academic year may also vary and be hard to decide.
So many universities like Clemson University, you can buy a class ring after completing 90 credit hours, which should be done in the junior year for a regular bachelor's student. Some offer it after completing as low as 60 hours. Many universities hold the ring ceremony every semester to let students receive the rings while cherishing their emotional significance.
The Big Question: When to Stop Wearing Class Ring?
You know when to start wearing a class ring, but deciding when to stop it isn't that straightforward. Generally, the class ring is to be worn with the insignia inwards in the senior year and outwards after graduation. So should you stop wearing it after the graduation ceremony or after you've passed school? Since there's no specific rule for that, here are your options to consider.
Wear It Eternally
Well, there isn't any hard-and-fast rule for that. Many don't wear them since they graduated. However, others, especially the alumni of the service academies or teachers, were seen wearing their college class rings even after 50 years of graduation! It's because a class ring is more of a novelty to them, something they feel emotionally connected to, just like a wedding band.
The novel The Lords of Discipline by The Citadel graduate Author Pat Conroy is penned around the senior year journey of a cadet at a fictional military school in Charleston, South Carolina. In the opening passage, he expressed the significance of the class ring to the identity of the graduate, saying, "I wear the ring. I wear the ring, and I often return to the city of Charleston, South Carolina, to study the history of my becoming a man".
Another fun fact is the grads from MIT, Harvard, or Yale would be seen their class rings decades later!
Take It Off Any Time After Graduation
The typical scenario today (for Gen Z) is they take off the class ring after graduation. They put them in the same box; they have their letter jacket, yearbooks, and graduation pictures. The box is opened only when they want to share these aspects with others, probably a future kid who will start high school.
So it's okay to stop wearing it if you're not comfortable keeping it on. But it's better to keep it as a commemoration and not sell it or swap it with other jewelry if possible. It's one of the rarest commemorative pieces of jewelry that invokes pride, memories, tradition, and nostalgia about how you became what you became. Keeping it will also allow you to wear it at alumni events if you need to attend them.
Is It Off The Old School?
You probably have stopped wearing a class ring, thinking it is a thing of the past. But it'd be too early to say that. Although the style of the class rings has changed over time, the tradition of wearing a class ring is still held dearly by a significant percentage of high school and college students.
Nevertheless, the demand for commemorative jewelry has taken a significant shift. The Vice President of Marketing at Jostens, Mr. Jeff Peterson, said the intent behind purchasing things like yearbooks or class rings hasn't gone down; instead, it has taken a shift where the young want to be presented with more options over this single piece of commemorative jewelry.
He addressed how students like the idea behind a class ring but are not interested in their bulky traditional looks. Contemporary-looking class rings and jewelry outside the ring category, such as lockets, bracelets, tags, and necklaces, are now gaining more attention from the students as commemorates. So personalization and customizability have become a widespread practice for class rings and such pieces of jewelry.
That being said, class ring manufacturers are adapting to this shift, and the improvisation can preserve the tradition for a long time.
Final Words
A class ring is a long-standing tradition and is close to heart for many students to date. They think it symbolizes their hard work while graduating from college or high school. It's the milestone through which they look back on their journey and take pride in it. It's received in ring ceremonies and worn in the senior academic year, having insignia towards the wearer. The insignia is turned outward on the commencement day.
Although there are clear protocols about when and how to start wearing it. But no rule says whether to stop wearing it after the graduation ceremony. So it's up to an individual's emotional connection to the ring to decide how long they want to wear it. Students who stop wearing it after graduation are generally practical and fashion-conscious.
We appreciate colleges that allowed customization and personalization in class rings and let the legacy be long-lived!