When it comes to modern learning, hybrid learning and blended learning has the center stage. In hybrid learning, you will have some classes in-person and others online via video conferencing. Blended learning only has traditional classroom sessions, and they are supplemented with digital self-study resources.
In a hybrid curriculum, lessons done online are attended by all students remotely. The same is the case for in-person classes. However, some institutions are advanced enough to allow you to join the physical class remotely via online conferencing tools.
Its counterpart has mandatory in-person classes. There are no online classes here but rather self-study supplementary resources like videos and forums. In this article, we will dive deep into the comparison between the two learning methods.

Image Source: Freepik
What is Hybrid Learning? What Benefits and Downsides Does it Have?
Just as discussed earlier, hybrid learning has some lessons online and others in a classroom setting. The online classes are attended by all students remotely.
However, some schools are advanced enough to offer you online participation in physical classes. So, in in-person classes, some students will be physically in the class, and others will participate remotely through digital platforms.
Read Also: What Are The 4 Processes Of Observational Learning?
Characteristics of Hybrid Learning
The following are the characteristics of this education type:
Online classes: Hybrid learning has remote classes that are mandatory for you. In these classes, no student will be in a physical class, just the teacher.
In-person classes: There are some aspects of each subject that cannot be taught online. For example, physics and chemistry practicals are better handled physically. In such cases, you will need to attend a physical class.
Both online and in-person classes at the same time: Another characteristic of hybrid model learning is both in-person and online classes at the same time. Students will present in in-person classes. At the same time, some students may attend the classes through online mediums.
One teacher: Whether the lessons are held in person or remotely, you will only have one tutor per unit or subject. For instance, if you take physics. There won't be a special teacher for online classes about the subject and a different one for in-person classes.
Mixed assessment methods: Any content or units you are taking online might be tested online. The school could buy or develop a program that will make this possible.
Lessons attended physically will have a sit-in exam. Also, if the school is not advanced enough, you will have a sit-in exam for online classes too.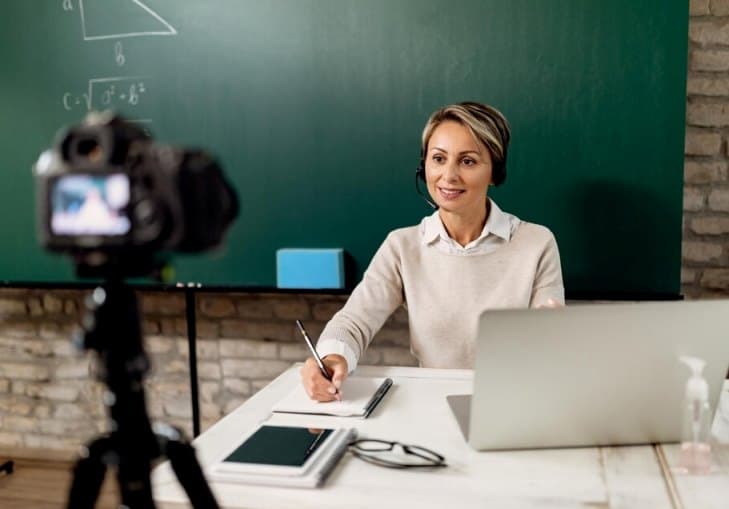 Image Credit: Freepik
Benefits of Hybrid Learning
Hybrid learning has the following advantages:
Enhanced flexibility: There are online classes that can be attended from any place. This gives you flexibility if you have a tight schedule or are away from school.
Improved accessibility: This type of learning breaks down geographic barriers. Even if you live in the most remote part of Alaska, you could attend an online class. However, you still have to attend all the in-person classes physically if your school doesn't offer online streaming.
Best for areas with erratic weather: If you live in areas that snow at certain months of the year, it is inconvenient to attend school in subzero temperatures. With hybrid learning, you can have online classes from your home during such times. Physical classes will only resume once the weather is conducive.
Possibility to attend all classes online: Advanced schools will also stream physical classes online. This gives you a choice to either attend them physically or entirely online. Such schools are best for employed people who have varying schedules.
The Downsides of Hybrid Learning
Here are the disadvantages of this learning method:
Technical issues: Inherent in the digital component of hybrid learning are technical challenges. These are things like internet connectivity problems, software glitches, and hardware limitations for online classes.
Social isolation: Online classes do not have many social interactions. Also, some schools give you the opportunity to take all classes online. By being an entirely remote student, you will miss out on the camaraderie that traditional classrooms
Check Also: Why Scaffolding is Key to Effective Education?
What is Blended Learning? What Benefits and Downsides Does it Have?
Blended learning involves traditional classes and online extensions. All students must attend lessons in person in traditional classes. The teacher will then give you self-study digital supplementary resources like videos and so on through online mediums.
Characteristics of Blended Learning
This type of learning has the following features:
Mandatory physical classes: You must attend all the physical classes. They cannot be attended remotely, and no streaming options are offered.
Self-study supplementary resources: There are no online lectures or classes. Instead, there are videos, forums, and other resources to supplement what you learned in the class. These resources are accessible via the school website or links given by the teacher.
Sit-in exams: The online part of this curriculum is to give you access to supplementary resources only. All exams are done physically in a classroom. However, some schools will have short online quizzes. But, uniformly, you will take the main exams physically.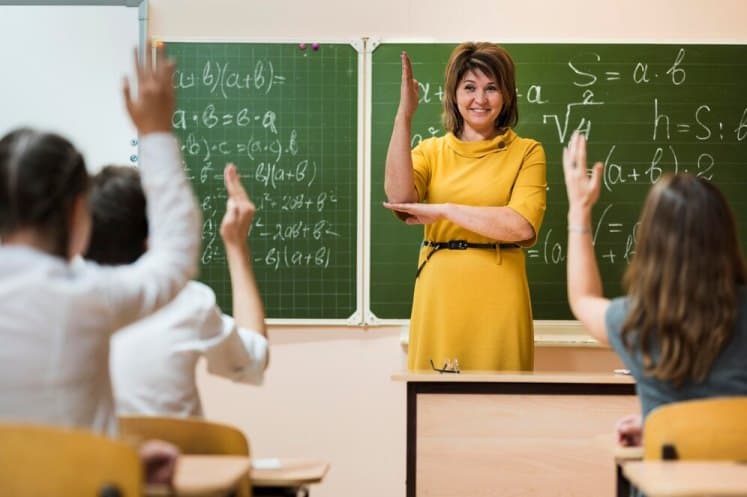 Picture Source: Freepik
Benefits of Blended Learning
Blended learning has these pros:
Equal engagement: All learners participate in person. They have equal engagement with the teacher and fellow students.
Better interactions: All lessons are done in the classroom. So, you have lots of chances to interact with fellow students. A few schools will also have forums on their websites. This further takes interactions to a higher level.
Improved retention: The combination of various teaching methods and resources enhances information retention.
Disadvantages of Blended Learning
Here is the downside of blended learning:
Digital equity issues: Not all students have the same access to the internet and technology. This will lead to a digital divide that disadvantages the students without reliable options.
Increased workload: Students have to attend both in-person and online components. This will be overwhelming, potentially leading to burnout.
A Comparison Between Hybrid Learning Vs Blended Learning
Here is a table with a comparison of these modern learning methods:
| | | |
| --- | --- | --- |
| Hybrid Learning | Vs | Blended Learning |
| Some lessons are held in person, and others online. Also, there are in-person and online classes at the same time. | Learning Modalities | Lessons are offered in person and supplemented by online digital resources like interactive videos. |
| Required for online classes. | Internet Dependency | Required to access supplementary resources. |
| Mandatory. Optional if your school streams in-person classes. | In-Person Presence | Mandatory; all students attend in person. |
| One instructor teaches one subject, whether online or in the classroom. | Instructor | Experts design the supplementary resources. These include illustrators, video editors, and so on. |
| Sit-in exams and online tests. | Assessment Methods | Sit-in exams. |
Hybrid Learning Vs Blended Learning: Which One is the Best?
Before joining an institution, you should know what type of learning they offer and if it aligns with you. Hybrid learning is best in the following cases:
You live in a remote area where the weather is unpredictable
Some aspects of your study area are purely theoretical
You are employed with varying schedules
You have access to reliable internet, computer, and electricity
Blended learning is best in the following cases:
You are available to attend all the lessons physically
The study area has lots of practicals or hands-on experience
You value in-person peer-to-peer interactions and networking
Conclusion
Hybrid learning and blended learning: two distinct methods of teaching. For hybrids, you attend physical and online classes. For blended learning, the primary learning method is via classrooms. Teachers only use digital resources to supplement what they have been taught at the school.
Each learning method is suitable for different study areas. For instance, blended learning would be the go-to for professions like engineering, medicine, and so on. Hybrid learning would benefit people whose study areas have more theory and less hands-on experience.