Students often question, is the Posse scholarship worth it? Definitely! This program provides students with several benefits.
Firstly, it provides a supportive environment where students can build strong relationships with a diverse group of peers.
Secondly, the scholarship covers full tuition for their entire undergraduate education.
Lastly, the Posse Foundation's extensive network and partnerships with top-tier universities allow students to be recruited by top companies in the country.
If you are looking for affordable colleges, the Posse Scholarship is worth considering. It offers free tuition fees and provides support to underprivileged students in their pursuit of a college degree.
In this article, we will talk about the details of the Posse Scholarship, how it works, and the benefits and drawbacks of it. Continue reading to find out more!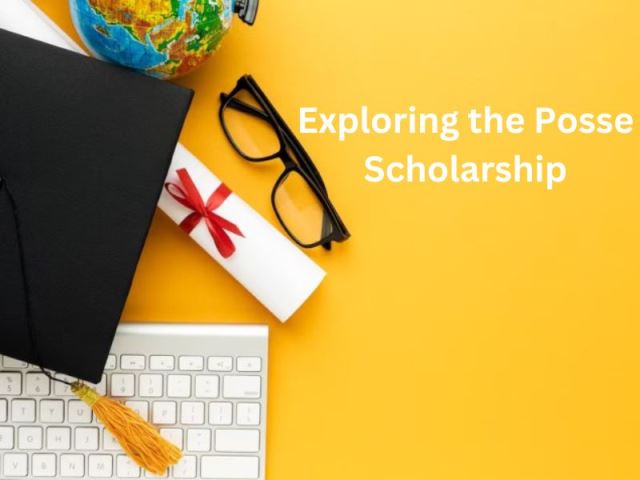 Posse Scholarship: What is it?
The Posse Foundation was founded in 1989 by Deborah Bial. He was a Harvard University graduate student who researched ways to retain students in top colleges.
Its purpose is to help unprivileged, promising students with diverse backgrounds and leadership potential attend college.
The Posse Foundation works with more than 60 colleges and universities, such as:
The University of California
The University of Wisconsin-Madison
Boston University
Bryn Mawr College
The University of Michigan
Hamilton College
Rhodes College
The University of Virginia
The Posse model involves selecting groups of students from different cities and states, called "Posses." This is done based on their leadership qualities, regardless of academics.
These students then go through ten weeks of training together, consisting of activities, workshops, and seminars. Posse Scholars receive scholarships covering their full tuition fees, and they are required to take part in regional and national Posse activities.
Since 1989, the Posse Foundation has provided scholarships totaling $2 billion to over 12,000 students, who have graduated at a rate of 90%. The rate is higher than the national average of 63%.
Additionally, the Foundation offers a support network for alumni to receive assistance in job placement, internships, and professional advancement.
This foundation has received numerous awards and recognition for its innovative approach to higher education, including a MacArthur Foundation Genius Grant and a National Humanities Medal.
Read Also: How To Apply For Mckay Scholarship?
Is Posse Scholarship Worth it Pursuing?
The scholarship offers a great chance for students who are passionate about social justice and leadership and want to attend top colleges and universities. However, the scholarship application process can be very competitive and may not be appropriate for all students.
But, if you are lucky enough to win this scholarship, you will receive special benefits. First, you will undergo an 8-month training program called the Pre-Collegiate Training Program. Here, you will attend intense workshops related to leadership, team building, and academic excellence.
To understand the worthiness of the scholarship, first, you have to learn what benefits you will get. Let's see how you will benefit from the Posse scholarship program.
What are the Benefits of Earning a Posse Scholarship?
The Posse Foundation is a charitable organization that finds and develops promising leaders from all over the United States and offers them the opportunity to advance their education. The Posse scholarship offers numerous advantages for its recipients, including:
Provides Financial Aid: Posse Scholars get a scholarship that covers their entire tuition fee for four years at one of the colleges or universities working with the Posse Foundation. This will help them save a lot of money while pursuing higher education.
Access to Peers from Diverse Backgrounds: Posse Scholars represent a diverse range of backgrounds, experiences, and perspectives, which adds to classroom conversations and fosters a more inclusive and open learning climate.
Successful Career Building Opportunities: Posse Scholars have succeeded in their professional lives across various fields, such as business, education, law, and medicine.Moreover, Posse will support you by offering regular visits to your campus and organizing weekend-long events called PossePlus Retreats. Posse Scholars are also given internships and other career-boosting opportunities.
Higher Graduation Rate: Posse Scholars have a higher graduation rate than the national average for students from similar backgrounds. Studies have shown that Posse Scholars have an average GPA of 3.3, and 90% of Posse Scholars graduate within four years.
Chance to Participate in Leadership Programs: Posse Scholars participate in a pre-collegiate leadership program, which focuses on developing leadership skills and fostering teamwork and collaboration.More than 70% of them either start new campus organizations or become presidents of existing ones.
Professional Guidance: Posse Scholars are assigned a mentor who offers them guidance and support to get through their college experience.
Networking Opportunities: Posse Scholars are included in a varied network consisting of students, professionals, and alumni, which provides multiple networking opportunities like internships, career advice, and job placements.
Helps Students to Score Higher Grades: Posse Scholars typically perform well in science and math-related classes, with a higher grade point average. Moreover, they have an average SAT score of around 1050.
So yes, if you have the dedication, passion, and patience, the Posse Scholarship is worth pursuing it.
What Are The Potential Challenges Of Earning A Posse Scholarship?
While the Posse scholarship offers numerous benefits, there are also a few drawbacks you should keep in mind.
Firstly, the scholarship application process is highly demanding, making it arduous for some to obtain it.
Secondly, students who prefer personalized learning may not love the group-based format.
Thirdly, since the scholarship mainly concentrates on undergraduate studies, students wishing to pursue higher education may need alternative financing sources.
Finally, the universities available for students to attend may not align with their academic or career objectives.
Therefore, you should carefully evaluate these factors before deciding to pursue the Posse scholarship.
What is the Selection Process of the Posse Scholarship?
The Posse Scholarship picks its recipients through a long, multi-step process that tests students in different areas. They include leadership, scholastic achievement, teamwork, and dedication to social justice.
Step 1: Identification of Potential Candidates
Firstly, high school teachers, counselors, and other community leaders identify possible candidates who meet specific requirements. Once the recommendations are made, the candidates move to the next stage.
Step 2: Initial Interviews
In the second stage, candidates are invited to attend a series of group and individual interviews conducted by Posse staff members and volunteers.
These interviews evaluate candidates based on their communication skills, problem-solving abilities, and potential to work collaboratively in a team.
Step 3: Proceeding to the Final Round
After the initial interviews, the selection committee identifies the most promising candidates who enter the final round. These finalists are then asked to attend a final interview at one of the participating educational institutions.
Step 4: Final Interviews
During this session, interviewers assess the participants' leadership, teamwork, and social skills.
Step 5: Selection of Posse Scholars
Once the selection process is completed, 10 fortunate individuals are declared as Posse Scholars. These scholars receive total financial support to attend one of the partner colleges or universities.
Related: Is Nitro Scholarship Legit?
Comparison of Posse Scholarship with Other Prestigious Scholarships
We have created a table below that compares Posse scholarships with other prestigious ones so that you can decide which one is the right fit for you.
| | | | | |
| --- | --- | --- | --- | --- |
| Features | Posse Scholarship | Rhodes Scholarship | Fulbright Scholarship | Gates Cambridge Scholarship |
| Selection Process | Nomination and Interview | Application and Interview | Application and Interview | Application and Interview |
| Award Amount | Full tuition fees for four years | Full tuition fees and stipend | Varies by country | Full tuition fees and stipend |
| Eligible Applicants | High school seniors | Graduates, young professionals | Graduates, young professionals | Graduates, young professionals |
| Academic Criteria | Demonstrated leadership and community involvement | Academic excellence and intellectual ability | Academic excellence and cultural exchange | Academic excellence and leadership potential |
| Study Opportunities | Partnered with over 60 colleges for undergraduate programs | University of Oxford | Various countries worldwide | University of Cambridge |
| Postgraduate Study | No | Yes | Yes | Yes |
| Research Opportunities | Limited | Available | Available | Available |
| Networking | Access to Posse alumni network | Access to Rhodes alumni network | Access to Fulbright alumni network | Access to Gates Cambridge alumni network |
Final Words
In conclusion, the Posse Scholarship presents an incredible opportunity for students who demonstrate strong leadership skills. Moreover, it offers a platform for them to make a meaningful impact in their communities.
One student shared that he wouldn't have dropped out of college if he had received a Posse Scholarship. While it may not be the right fit for everyone, it is worth considering for those who value mentorship, team-building, and pre-collegiate training.
Through the Posse Foundation, you have the opportunity to receive a full-tuition scholarship. Additionally, you gain access to a supportive community of like-minded individuals who are all dedicated to pursuing academic and personal success.
If you have a passion for leadership and making a difference, you should consider pursuing the Posse Scholarship. It could take you places you never imagined!