Certify Teacher vs 240 Tutoring test prep programs: where do you stand a greater chance of getting certified on your first try?
Choose Certify Teacher if you're looking for a full understanding of all content areas, especially for your TExES exam. On the other hand, 240 Tutoring is the better option if you wish to save time by focusing on only the most essential concepts.
Note that only 45% make the cut on their first try on alternative teacher certification exams. Plus, retakes only add more to the expenses, and you may have to wait 30 days for it.
We'll share with you a detailed overview of each test prep program, including a head-to-head comparison. Plus, we'll have the pros and cons of them to aid your decision. As a result, you can make an informed decision to take help that will help you the most to stand out in your teacher certification exam.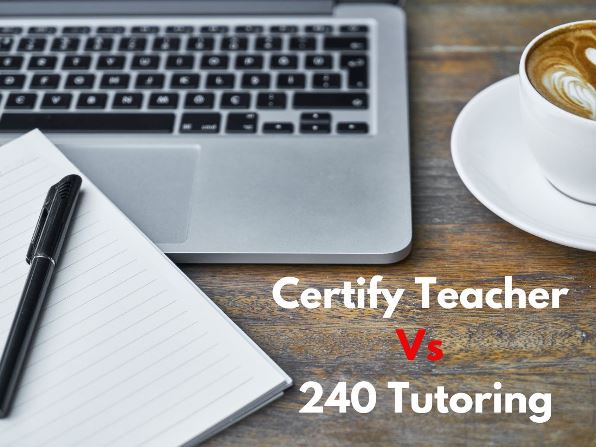 Certify Teacher Overview
Here is a quick overview of the Certify Teacher preparation program to understand its working procedure.
| | |
| --- | --- |
| Materials & Resources | Study guides, quizzes, practice tests, flashcards, video lessons |
| Practice Tests | TeXES and Praxis |
| Pricing | $37-180 |
Certify Teacher offers study materials for Praxis and TExES exams. Nevertheless, the primary focus is on the TExES exam.
It's worth pointing out that the study guides on this platform encompass all areas and competencies of the real TExES exam. In addition to this are hundreds of realistic questions. Primarily, the drag-and-drop feature, click-on-the-box, and sentence-click options provided with the questions simulate the real exam.
Essentially, this platform covers the breadth and depth of each TExES exam, with more subjects on offer. Certify Teacher provides up-to-date information on all the topics you need to be well-versed in to pass this exam.
Praxis is also available. Even at that, they're a bit limited in their offering for now. For instance, practice tests on Algebra I (5162), Physics: Content Knowledge (5265), and Social Studies: Content Knowledge (5081) are displayed as "coming soon." This affects the 21 states that rely on these test series.
Hundreds of flashcards are available to help you remember relevant key terms. The suite of offerings also includes video lessons, most especially Khan Academy math clips and short competency videos.
One powerful tool unique to Certify Teacher is the study plan tracker. For the most part, it lets you track your progress to identify your strengths and weaknesses.
Certify Teacher then uses this information to provide personalized assignments that hinge on your performance. That being the case, it makes it easier for you to target areas that need additional focus.
Thanks to its accessibility and user-friendly features, using Certify Teacher is fairly easy. Some sources detail that Certify Teacher doesn't have a customer review section, which isn't the case. The platform has a "user testimonial" section where you can get valuable insights into the experiences of other customers.
Pricing
You'll have to pay for each component you purchase on the Certify Teacher platform. There are six different prices to choose from depending on what exam you want to take on: $37, $55, $110, $115, $175, and $180. The good thing is that if you fail your certification exam, you still have access for up to 3 years.
Contrary to what some sources would tell you, Certify Teacher has a money-back guarantee. Nevertheless, you must satisfy four requirements:
It should be your first time taking on the real certification exam
Make the cut of at least 90% in 3 practice tests within 2 weeks before your certification exam
Complete all quizzes as stipulated by the study plan tracker
Keep the study plan tracker on throughout your study session
How Certify Teacher Works – Best Approach
Step 1: Select and subscribe to the certification you want to pursue.
Step 2: Take a diagnostic test.
Step 3: Study and build quizzes on areas you failed to make the cut of 80%.
240 Tutoring Overview
Here's an overview of 240 Tutoring that will help you to understand its working procedure and more.
| | |
| --- | --- |
| Materials & Resources | Study guides, quizzes, practice tests, flashcards, video lessons, online resources, webinars |
| Practice Tests | Offers exam series for 48 states (Except New York) |
| Pricing | Monthly subscription options: $39.99 and $44.99 |
Clearly, 240 Tutoring has expansive materials and resources. Its study guides, in particular, consider 48 state exams across the US. The study guides break down complex concepts into easily digestible sections. On the other hand, quizzes and practice tests help educators assess their understanding of the material as they progress.
Flashcards ensure good memory retention, most especially for complex subject matter. Video lessons and online resources supplement traditional learning methods.
240 Tutoring offers practice questions for multiple teacher certification exams. Some of the most popular offerings in the 240 Tutoring platform are:
Praxis
FTCE (Florida)
NES
TExES (Texas)
CSET/CBEST (California)
Primarily, each study guide and practice test aligns with specific state exams. Also, the platform tends to zero down on specific concepts that need more attention.
Online resources and 2-3 hours webinars are notable additions to this website. Webinars, in particular, offer educators the opportunity to interact with experts and ask questions in real-time.
Be that as it may, 240 Tutoring only offers webinars for select exams: Texas EC-6 and FTCE exams. Plus, you'll pay an additional $19.99 for this feature.
Another unique feature is the 240 Tutoring YouTube channel. You can check it out, especially if you miss videos in your study guide.
240 Tutoring has user reviews in addition to FAQs. In this regard, you can gain a better understanding of the platform's intended use, offerings, and potential issues.
Pricing
Each practice test is available for a monthly subscription fee. Depending on your subject area, expect a monthly subscription of $39.99 or $44.99.
One thing that sits well with most users is pass assurance. Provided you score 90% in the 240 Tutoring practice test but fail the certification exam, you're eligible for up to two months' refund.
How 240 Tutoring Works – Best Approach
Step 1: Subscribe to the certification of interest
Step 2: Take a diagnostic test.
Step 3: Refer to the study guide, which would typically have instructional content and practice questions.
Step 4: Take the practice test
Certify Teacher vs 240 Tutoring: A Head-to-Head Comparison
In the table below, we analyze the similarities and differences between Certify Teacher and 240 Tutoring. Use it to pinpoint unique features and drawbacks that may help you come to a decision.
| | | |
| --- | --- | --- |
| Aspects | Certify Teacher | 240 Tutoring |
| Study guide | TExES and Praxis | Study guide for 48 states |
| Approach | Comprehensive coverage | Zeros down on specific concepts |
| Pricing | $37-180 per study guide (3 years access) | $39.99 monthly (all-access) |
| Pass Guarantees | ✔ (But you need to score at least 90% in the 3 practice exams) | ✔ (But you need to score at least 90% in the practice test) |
| Online resources | None | ✔ |
| Webinars | None | ✔ |
| User reviews | ✔ | ✔ |
Let's talk a bit about pass guarantees, user reviews, and customer support.
We like that both platforms offer a pass guarantee, especially considering the 45% first-try pass rate on teacher certification. Nevertheless, Certify Teacher seems to have more requirements in place.
You can find 240 Tutoring reviews on multiple high-authority platforms like Trustpilot. On the other hand, Certify Teacher only has testimonials on the website itself.
240 Tutoring customer support also seems more responsive from most user feedback. It even includes a chatbot that provides 24/7 real-time support on high-volume customer inquiries. On the other hand, you may have to wait up to 5 days to get feedback from the Certify Teacher platform.
Pros and Cons of Each Exam Preparation Option
Let's capture the pros and cons of Certify Teacher and 240 Tutoring test prep programs. Use it with the information on the comparison table to make an informed decision.
Monthly subscriptions can add up as you may study up to 6 monthsPass GuaranteeResponsive customer service
More questions per study guidePass GuaranteeResponsive customer service
Platform
Pros
Cons
Certify Teacher
Comprehensive coverage
Customer service issues

Established provider for TExES
Questions are different every time you take them
Most up-to-date information
3- year access if you fail
240 Tutoring
Covers exam series in 48 states
Tend to reuse some questions
Focuses on areas that need more attention
Monthly subscriptions can add up as you may study up to 6 months
More questions per study guide
Pass Guarantee
Responsive customer service
Conclusion
The Certify Teacher test prep program offers in-depth study materials, primarily for TExES. On the other hand, 240 Tutoring covers exam series in 48 states, and tends to zero on areas that need more attention.
The certification you're pursuing and your learning style may be the deciding factor. If your primary focus is on TExES exam, you can gain more from Certify Teacher.
However, if you're from other states and only need to focus on essential concepts, 240 Tutoring will do. Be that as it may, maintaining a good start routine and taking a bunch of practice exams are key to passing.